Click on the link above to buy tickets to this show
Join us for an evening of dinner, drinks, standup comedy and amazing prizes from local Artisans
All proceeds will benefit The Shanti Group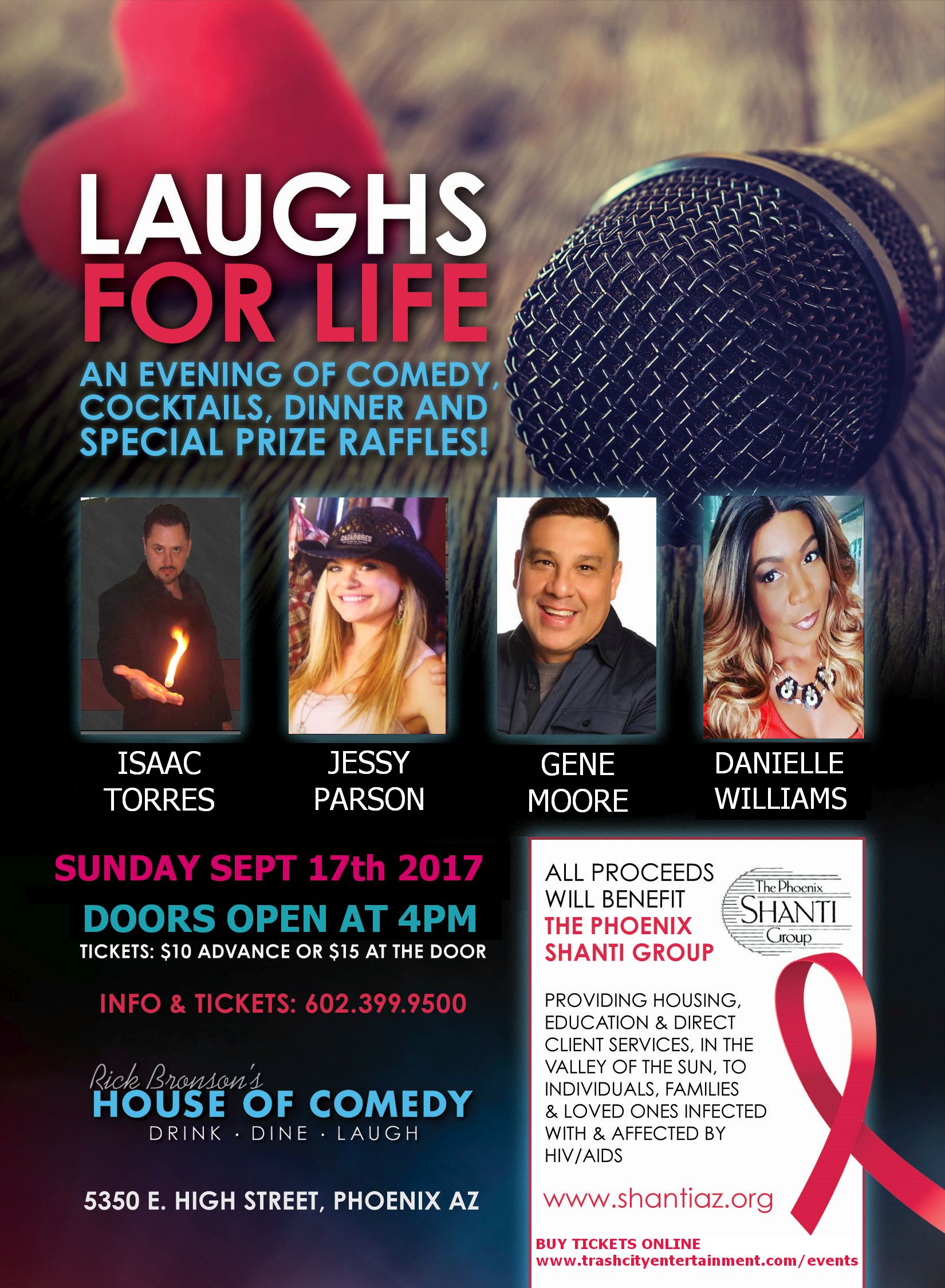 Rick Bronson's House of Comedy and Trash City Entertainment present:
LAUGHS FOR LIFE
Standup Comedy Event
Fundraiser for Phoenix Shanti Group
Sunday September 17th 2017
Doors open at 4pm SHOW STARTS AT 5:00pm
5350 High Street
Phoenix Arizona 85054
Call for information: 602-399-9500
There will be a cocktail hour, a full dinner menu is available to all guests, a standup Comedy show featuring 4 very funny comedians, as well as raffles for amazing donated items by local artisans including, but not limited to: Kiki's Cupcakes, Artist Smitty Tut Designs, Arbonne Cosmetics and Artist Tom Deadstuff just to name a few.
All proceeds of Ticket Sales and Raffle will benefit Phoenix Shanti
Doors open at 4pm. Tickets are $10 General Admission in advance and $15 at the door.
There is also a special up to 6 person booth VIP booth available for $75 and will include a special gift basket for each person in the booth. (Very limited quantity of VIP are available)
CALL FOR MORE INFORMATION: 602-399-9500
Order advance tickets now!
Seating is first come-first served, VIP Booths are special reserved.
Choose your ticket option and you can add quantities on the next page
ABOUT OUR PERFORMERS
Isaac Torres - Best known as Isaac the Magician, Isaac has thrilled audiences with his blend of Comedy and Magic. A very interactive performer who has been seen nationwide. His critically-acclaimed stand up comedy/magic show keeps audiences laughing from start to finish. Isaac's versatility and audience participation is his #1 asset. He truly understands all crowds. He has performed for many highly-regarded organizations and comedy clubs
Gene Moore - Gene's humor is high energy and fast paced. He defines himself as a front row friendly comedian that can entertain and perform in front of very diverse audiences. His humor is observational, hopeful and based on his life experiences. He finds a way to take his life as a gay, hispanic, army veteran and makes it relatable and humorous to all audiences.

Danielle Williams - Danielle Williams is The Comedy DIVA. Audiences have embraced Danielle through
her unique take on wearing wigs, her perspective on pop culture and being void of black
love. Danielle has performed throughout the Southwest with performances at ACES comedy
club, Tempe Improv, Stand up Live, The Comedy Spot and Rick Bronson's House of
Comedy.
Danielle's stage presence, comic timing and enthusiastic energy have made her one of
the most sought after comics on the scene.
Danielle has opened for NBC's Last Comic Standing finalist comedienne Aida
Rodriquez, comedian Donnell Rawlings from the Chappelle show and Godfrey.
Danielle is a television host who jump starts your day every morning on Arizona Daily
Mix on AZTV.
Visit her website: www.daniellewilliamscomedy.com
Jessy Parson - Jessy grew up in the small town of Farmington New Mexico, with five brothers and two sisters. They had to fight each other to be heard. That's how she became hilarious. She had to get creative. At an early age, her parents knew she was the girl who wanted to make people pay attention and laugh. She currently teaches 3-5 year old children tap, ballet, and gymnastics. She is terrified of fish and will lose it if she sees one. She says she is not proud of this. She was either a mermaid who had a FISH fight in her past life OR just hates fish!
About The Shanti Organization
http://www.shantiaz.org
MISSION:
Founded back in 1987, our mission is to provide housing, education, and direct client services to individuals, families, and loved ones infected with and affected by HIV/AIDS. Phoenix Shanti Group is a 501c3 non-profit organization and tax receipts are provided for all donations.
"Shanti" is a Sanskrit word meaning "Inner Peace" and is reflective of Phoenix Shanti Groups' approach of promoting personal empowerment and maintaining independence and dignity
GOAL:
Phoenix Shanti Group is dedicated to providing services to diverse populations with a focus on cultural competence through the application of culturally and linguistically appropriate services. We have an on-going assessment process that addresses key areas of focus in implementing and refining our cultural competency strategy program.
OBJECTIVES:
Phoenix Shanti Group operates two different types of housing programs:
Transitional Housing and Permanent Supportive Housing.
The Transitional Housing Program provides a structured, drug-free environment to homeless, or at risk of becoming homeless, HIV+ individuals. Participants in this program may remain in the program for up to 24 months.
The other type of housing option operated by Phoenix Shanti Group is Permanent Supportive Housing. This program is for homeless HIV+ individuals/families who are capable of living independently. The program provides individuals the opportunity for long term housing stability while utilizing community resources to work toward self sufficiency or home ownership.