Join us for an evening of dinner, drinks, standup comedy and amazing prizes from local Artisans
All proceeds will benefit The Shanti Group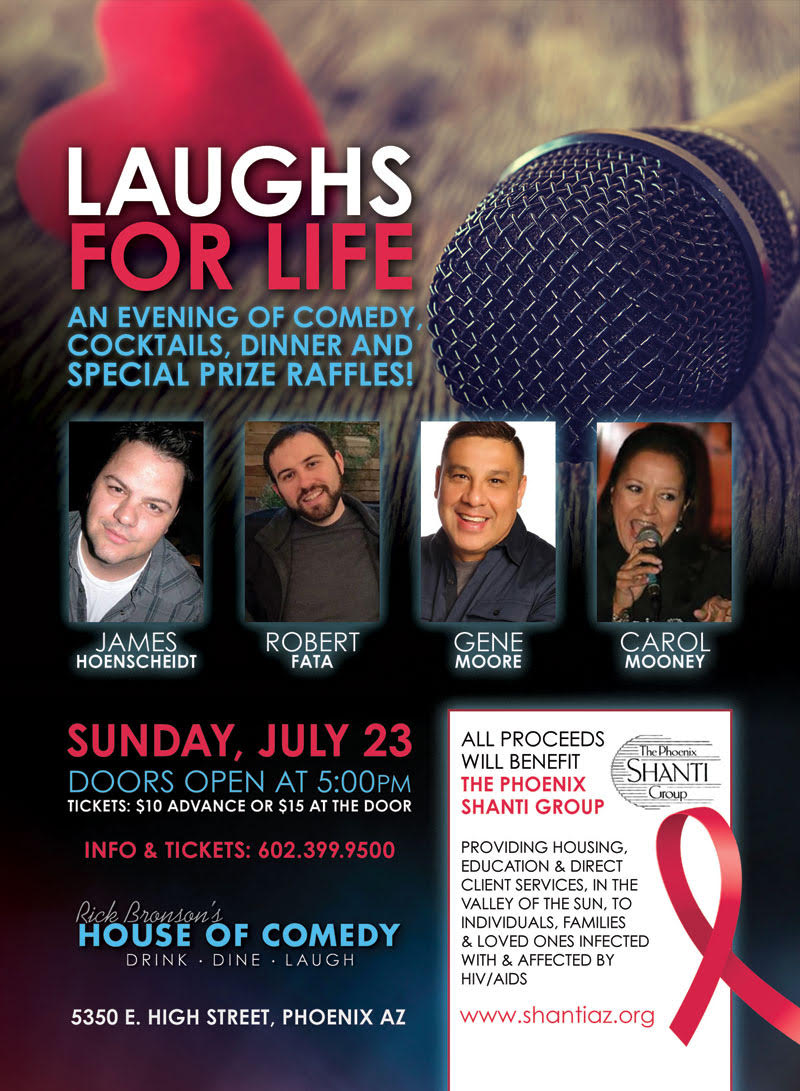 Rick Bronson's House of Comedy and Trash City Entertainment present:
LAUGHS FOR LIFE
Standup Comedy Event
Fundraiser for Phoenix Shanti Group
Sunday July 23rd 2017
Doors open at 5pm
5350 High Street
Phoenix Arizona 85054
Call for information: 602-399-9500
There will be a cocktail hour, a full dinner menu is available to all guests, a standup Comedy show featuring 4 very funny comedians, as well as raffles for amazing donated items by local artisans including, but not limited to: Kiki's Cupcakes, Artist Smitty Tut Designs, Arbonne Cosmetics and Artist Tom Deadstuff just to name a few.
All proceeds of Ticket Sales and Raffle will benefit Phoenix Shanti
Doors open at 5pm. Tickets are $10 General Admission in advance and $15 at the door.
There is also a special up to 6 person booth VIP booth available for $75 and will include a special gift basket for each person in the booth. This is a very limited quantity and once they're gone, only General Admission will be available.
Order advance tickets now!
Seating is first come-first served, VIP Booths are special reserved.
Choose your ticket option and you can add quantities on the next page
ABOUT OUR PERFORMERS
James Hoenscheidt - James Hoenscheidt has been entertaining audiences in the Southwest with his comedy for the better part of a decade. James has graced the stages of the Tempe Improv, Stand Up Live, Stand Up Scottsdale, and the Speakeasy Comedy Lounge. James won the inaugural Phoenix Comedy Slamfest and can also be seen in the web-series Normally This Weird, Voyage Trekkers, and the award winning short film Zombie Team Building, which you can check out at squishystudios.com.
Gene Moore - Gene's humor is high energy and fast paced. He defines himself as a front row friendly comedian that can entertain and perform in front of very diverse audiences. His humor is observational, hopeful and based on his life experiences. He finds a way to take his life as a gay, hispanic, army veteran and makes it relatable and humorous to all audiences.

Carol Mooney - An Arizona native, Carol has managed to create an aggressive comedy act that moves in and out of reality to brilliantly funny fiction about her life growing up Mormon, her life married with a houseful of kids, to, more recently, her new life as a 50 something single mom dating again for the first time in 30 years. As a comedian, she has worked with such comedy greats as Steve White, Ritch Shydner, Judy Tenuta, Norm McDonald, and many others in comedy clubs all around the country.
Robert Fata - Robert considers himself a Comedian and science geek with no discernible talents. An actor, writer and standup comedian, he went from being a city-wide working comic to a nationally touring comedian. He's done shows for cultural awareness, and charities. He has performed in rooms of all sizes, from small and intimate, to large and chaotic, ranging from family style restaurants to the Tempe Improv. He's worked with big names like Craig Gass, Judy Tenuta, Hal Sparks and Gilbert Gottfried. His humor's been described as intelligently sardonic. He has most recently been working his skills in Improv Theater and stars in the play "Space Junk" at the Brelby Theater, beginning his initial foray into live theater
About The Shanti Organization
http://www.shantiaz.org
MISSION:
Founded back in 1987, our mission is to provide housing, education, and direct client services to individuals, families, and loved ones infected with and affected by HIV/AIDS. Phoenix Shanti Group is a 501c3 non-profit organization and tax receipts are provided for all donations.
"Shanti" is a Sanskrit word meaning "Inner Peace" and is reflective of Phoenix Shanti Groups' approach of promoting personal empowerment and maintaining independence and dignity
GOAL:
Phoenix Shanti Group is dedicated to providing services to diverse populations with a focus on cultural competence through the application of culturally and linguistically appropriate services. We have an on-going assessment process that addresses key areas of focus in implementing and refining our cultural competency strategy program.
OBJECTIVES:
Phoenix Shanti Group operates two different types of housing programs:
Transitional Housing and Permanent Supportive Housing.
The Transitional Housing Program provides a structured, drug-free environment to homeless, or at risk of becoming homeless, HIV+ individuals. Participants in this program may remain in the program for up to 24 months.
The other type of housing option operated by Phoenix Shanti Group is Permanent Supportive Housing. This program is for homeless HIV+ individuals/families who are capable of living independently. The program provides individuals the opportunity for long term housing stability while utilizing community resources to work toward self sufficiency or home ownership.