Trash City Entertainment
Our story begins in 1989, when Jim McLennan decided to begin publishing a fanzine, using the technology conveniently available in the office where he worked. This would cover his interests of films, music, comics, travel and - at that, single, unattached, pre-Chris point! - Nastassja Kinski. After casting around for a name, he decided to pick 'Trash City', after a song by then-popular band, Transvision Vamp - at least until he could come up with something better...
A few issues into its life, circulation had grown sufficiently that he could abandon late-night skulking by the Xerox machine, in favor of hiring an actual printer to do the job. It was around this time that Chris, on the recommendation of Seattle promoter and fanzine editor Jeff Gilbert, sent Jim $20 as a subscription. Soon, the letters were flying - this being in the days before email - and a steady trade was built up, as the pair exchanged "things you can't get in Britain" for "things you can't get in the United States".
September 1997 was a watershed for Trash City, in two major ways. Firstly, the magazine arrived on the new-fangled invention called "the Internet", at TrashCity.org. Perhaps even more importantly, Jim and Chris met in person for the first time, during the Las Vegas leg of Jim's holiday in America. Chris picked him up at the airport, and thereby saved him from a crash on the Strip, caused by a lethal combination of jet-lag and culture shock. She made her first visit to the UK in February the following year, and soon the air-miles were being racked up at the same rate at the emails and postage stamps.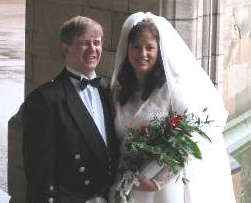 Finally, in November 2000, Jim quit his job, handed over his house keys, and moved to Arizona, where Chris was already running TrashCity.com, her wholesale beads business. This was originally an Ebay-based endeavor, but has since grown into the financial heart of the Trash City empire. Marriage was proposed in November 2001 (immediately after Luis Gonzalez got his game-winning hit in the World Series!), and the two became Mr. and Mrs. McLennan in Scotland the following July.
Trash City Entertainment came about in summer 2004, when Chris was asked to book events at The Sets in Tempe. Connections to comedians, wrestlers and bands rapidly followed, and she has since also booked events at the Mardi Gras in Scottsdale as well as an ongoing series of Saturday night events at Big Daddy's North on the West Side. Jim, meanwhile, expanded his online presence with GirlsWithGuns.org in February 2003. His blog regarding the local baseball team also came to the attention of SportsBlogs, Inc. and he has been running their Diamondbacks site, the AZ SnakePit for the past six seasons. Together, they were named "Best Alt-Culture Capitalists" by New Times in 2005, and have also run the Phoenix Fear Con since 2006.
Chris and Jim live in West Phoenix. They have two children, Robert and Emily, two dogs (Jack + Cleo), a large unwatched DVD pile, and far more books, CDs, movie posters, medieval weapons and T-shirts than any sane couple should possess. :-)